Open Source Velomobile

---
About
News
FAQ
Building the Shell
Links
Merit System
Tadpole Conversion
Lighting
WHAT IS IT?
A way to radically reduce the cost of building a velomobile by using the Open Source system. Starting with a typical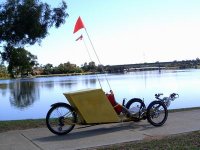 recumbent trike (tadpole type) you add a fibre reinforced plastic shell that you can make yourself from a mould which you have borrowed at no charge from another hypertrike.org member.

Members are encouraged to copy the moulds and improve the design as they go which then passes on others who want to make their own Hypertrike. Cost for materials by those who use their own (free) labour is about 200 EUR (Ozzie $320, US $240) for fibreglass, polyster resin, rigid PU foam etc. more detail here!.

The chassis of the prototype is a stretched version of a Logo trike but the aim is for the shell to be applicable to as many tadpole trikes as possible by way of simple changes as part of the basic design. You can even build your own sports trike using the "Thunderbolt" design from our Links page.
Mission Statement
The Hypertrike project will (if it succeeds) greatly increase the number of velomobile type personal transport vehicles in everyday use by creating a design and constuction method that is easily copied by individuals using commonly available materials and skills.

Design Specification
Most of the urban utility of a small car

Lockable, payload & rider areas

Protection from tyre splash, sunburn and rain

High visibility to other traffic

Higher collision protection than bare trike

Aerodynamically efficient

Beautiful shape

Noise and Vibration countermeasures for the rider

Join The Fun!
Send me a message, trev at hypertrike dot org to join the que for free use of the moulds and make a set of body panels of your own. So that your important message doesn't get swamped by spam, there is no hyperlink so you must type in the mail address manually, with no spaces and substituting punctuation symbols '@' and '.' in place of words like "at" and "dot". If that's all too much, just use [email protected] and hope that your message is not swamped with spam!
A discussion thread is running at WA HPV Homebuilders Forum. Have your say, leave me a message and join in!

Build Your Own from Scratch with a Free Trike Design
I decided to support my local HPV builder, Logo Trikes but if you have no one in your area and don't want to freight one in, a free set of plans to build a recumbent trike is at the International Human Powered Vehicle Association.

Live for Free
While researching possible designs for a Hypertrike I met Dr Pat Howden who kindly offered the electronic version of his book which is jam packed with ideas and designs for living an extremely low cost, sustainable life. Get it here! How to Live - Free at Last.
---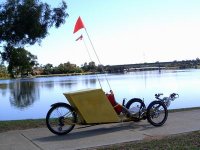 "Proof of Concept" only version of a Hypertrike - rear lockable luggage space but minimal aerodynamics and no lockable cockpit space.



This page was last edited 10 April 2009.
News
Apr 10, 09
High Speed Electric Tadpole Trike
"TREV" is a two seat electric car with tadpole wheel layout. See News for details.

Dec 14, 08
Open Source Street Navigation
See News for details.

January 28, 07
Hypertrike Use Accelerates Fat Loss?
See News for details.

February 1, 06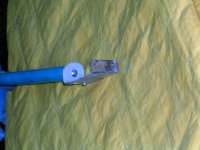 Failed weld joint on wireframe master shape is a setback for the Hypertrike body shell. See News for details.